Product
Plastic Insulation Pin & Drive Pin Assembly Machine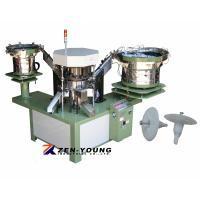 Plastic Insulation Pin & Drive Pin Assembly Machine
Product ID: ZYTS
100% sorting capabilities to ensure the highest quality of finished assembly products.
Specifications:
Motor power: 1/2HP

Dimension: 2,490 (L) x 2,360 (W) x 1,730 (H) mm

Net Weight: 1,500kgs

Control: Programmable logic control of all movements.

Inverter to adjust machine speed.
Features:
Continuous assembly mode, fast and stable assembling, operation and troubleshooting easy, simple mechanism can be to create a highly assembling speed.

Sorting device for unassembled parts.

Sensing for every process of machine motion, easy to operate and eliminate malfunction, and protect the safety for machinery and operator.

Changing molds to assemble different sizes of drive pin or plastic insulation pin.
機型




Model




釘子尺寸


Pin Diameter

釘子長度


Pin Length

塑料管尺寸


Plastic Insulation Pin

組裝速度


Output

ZYTS

Ø3.7

45~100 mm

Diameter: Ø60




Length:45~100 mm

100~200 PCS/MIN
Order Information:
Minimum Order: 1 set
Branded Product